'Ramadan Charity Drive'
During the holy month of Ramadan , our parents and students have played a major role in distributing food and other vital edibles that assisted people in opening their fasts  at traffic lights in and around mussafah, Abu Dhabi . 
Spreading the green message:
Our faculty and administrative staff played an important role and helped us throughout the process, of it.
 "Students of Dunes International School distributed newspaper bags to restaurants and groceries in the Capital. Principal Paramjit Ahluwalia said in the month of Ramadan the school is striving hard to make the younger generation become more sensitive towards environment.
"The students got a good opportunity to communicate and spread messages of protecting environment." 
Learning Sustainability:
At Dunes, we promote activities that will make our children, responsible and caring citizens of the world, we teach them the minutest things you do, actions you take define how you are being shaped and what impact will you be making in this world. We instill values like every little thing you do matters, small steps taken by each one of us, makes a huge difference.
No more plastics:
In Dunes International School, we promote children to not use plastic in their day to day lives.
Vertical garden:
Teaching our children the importance of vertical gardens, how to make optimum use of space and do your little bit to make the world a better place.  They learn to answer questions as to "what", "why", the impact on carbon footprint made by growing a vertical garden.
Grade 1 student's words:
"The beauty of vertical garden can be said to be as, you can go as high as you want – if you have a system that work properly."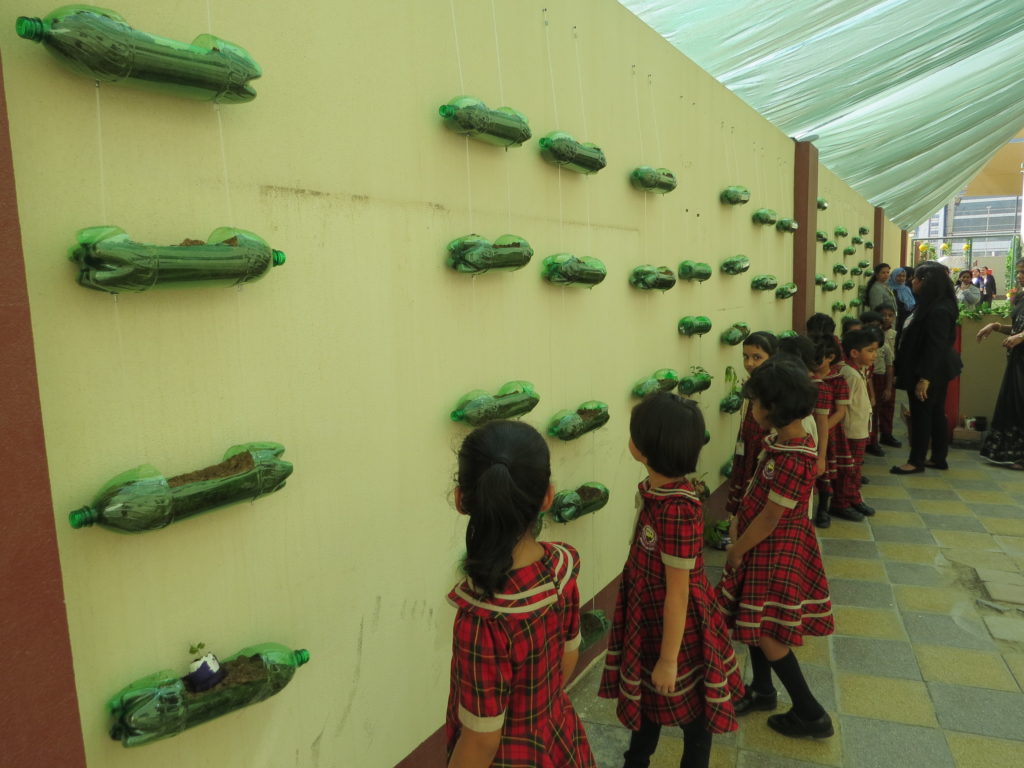 Tyre Garden:
Our kindergarteners have been a vital part in this and have learned how to utilize materials, even  Tyres to have a garden grow in it.